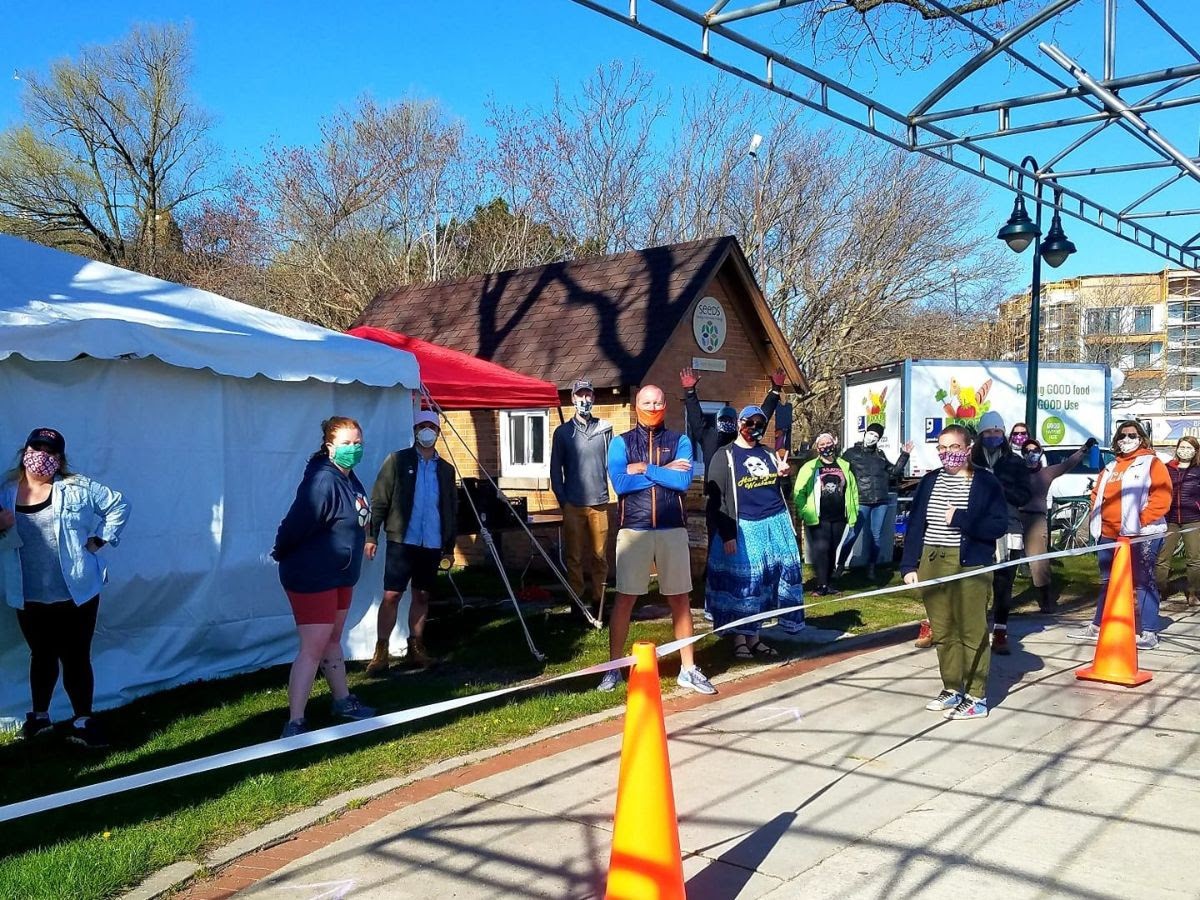 Above: SEEDS Staff and Volunteers prepare the online orders for pickup at the Sara Hardy Farmers Market. Live market opens this Saturday and online pickups will move to Wednesday evenings.
We are so grateful to work with partners like the Traverse City DDA, Taste the Local Difference, and Food Rescue! Without the intensive adaptation and collaboration demonstrated by these high capacity organizations, the 2020 season of the Sara Hardy Farmers Market would not be possible. We are equally grateful to the farmers and customers who have had to be flexible, patient, and willing to adapt.
Adapting together IS community resilience. If you would like to help further, click the link for volunteering options below!
THIS SATURDAY: Live Market!
After five weeks of online-only market pickups, we will host the first socially-distanced physical market this Saturday, June 13 from 7:30 am to noon. The market will take place in the normal spot (Parking Lot B).
For everyone's safety, we ask that you:
Wear a mask and stay 6 ft apart. My mask protects you and yours protects me, thanks!
Plan for lines and perhaps waiting to enter the market.
Come prepared. Know where to find your vendors and have your lists ready. Vendors will grab your items, keeping you outside their booth.
Enter from the East or West entrances. If you come over the bridge, you will be redirected to one of those entrances.
The following is a list of vendors attending June markets. Stay tuned for July's news.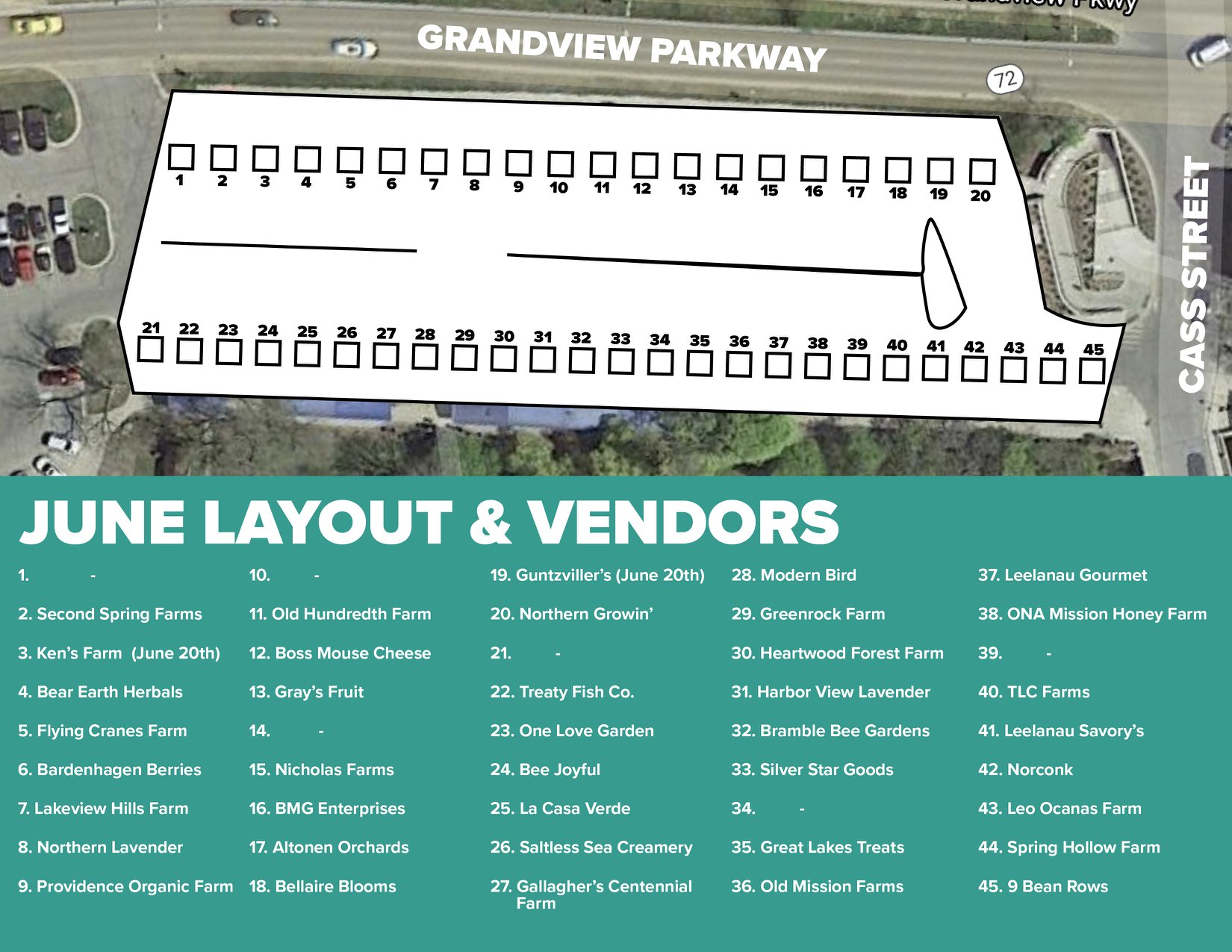 Online Market Continues!
Online orders will continue HOWEVER, pickups will now be on Wednesday evenings between 5 pm and 8 pm (instead of Saturday mornings). You can start ordering for next Wednesday's pickup this Thursday at 10am; ordering closes each week 10am Monday.
Click Here to Shop Online (starting Thursdays at 10 AM)
The online marketplace has served over 1700 orders and facilitated over $80,000 directly to dozens of vendors in the first five weeks! The online market allows the Sara Hardy Farmers Market to serve more vendors while space is limited at our physical market. It also gives more options for vendors and customers, which is especially important given the context of COVID-19.
Many vendors will selling both at the live market and online. The following vendors will only be selling online at this time:
Brown's Poplar Ridge
Champion Hill Honey
Cultured Kombucha Co.
Duerksen Turkey Farm Inc.
Grand Traverse Mushroom
Greenetown Foods
IndieGrow Flower Farm
Land of Milk & Honey
Leelanau Lavender
Loma Farm
Natural Northern Foods
North Country Farms
Old Mission Bakery
Owl Ridge Maple Sugar Farm
Perennation
Third Coast Bakery
Wild Juniper Nursery
Sign Up to Volunteer, It's Fun!
The Role of SEEDS EcoCorps:
SEEDS Ecology & Education Centers holds the Farmers Market management contract with the Downtown Development Authority. We support the DDA in all aspects of coordinating, managing, and staffing the market. Market management is one of the roles that SEEDS EcoCorps crew members fill during their summer season, earning experience in logistics, customer service, and local food systems. Crew members gain valuable work experience while serving their local communities. Other EcoCorps projects include trail construction, habitat restoration, historic preservation, parkland improvement, invasive species controls, small scale construction, reforestation, & more! Learn more about SEEDS EcoCorps here.