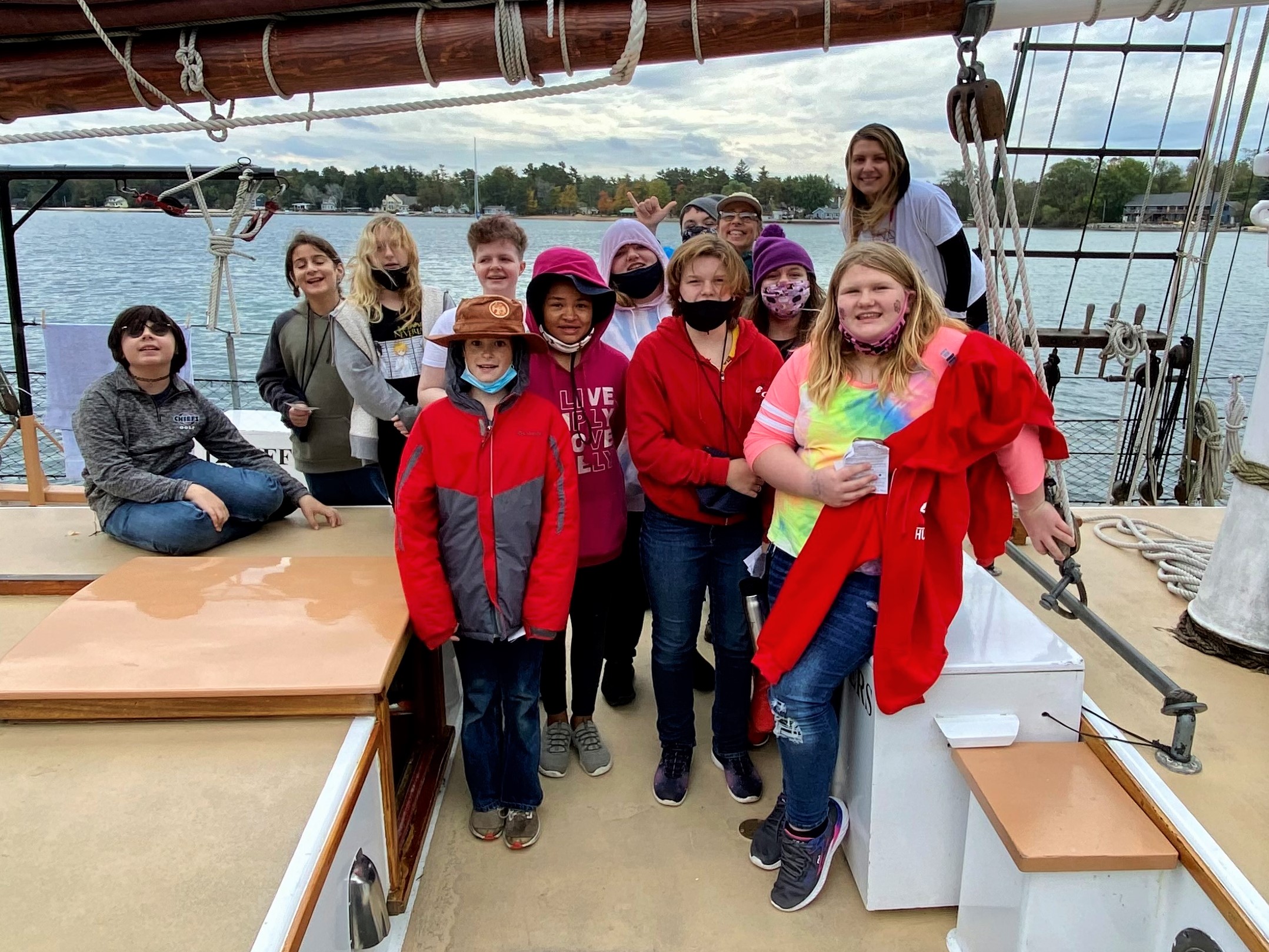 Above: Benzie Central Middle School students sail Lake Michigan with SEEDS After School and Inland Seas Education Association.
SEEDS and Inland Seas Education Association (ISEA) partnered up and brought enriching watershed-related STEM (science, technology, engineering, and mathematics) projects to nearly 200 students in rural Northern Michigan schools!
The highlight of the program was a field trip to the Great Lakes Schoolship, Inland Seas, in Suttons Bay. Over 60 students boarded a traditionally rigged schooner in Lake Michigan and assumed the role of a Great Lakes Scientist to study the health and ecology of Lake Michigan.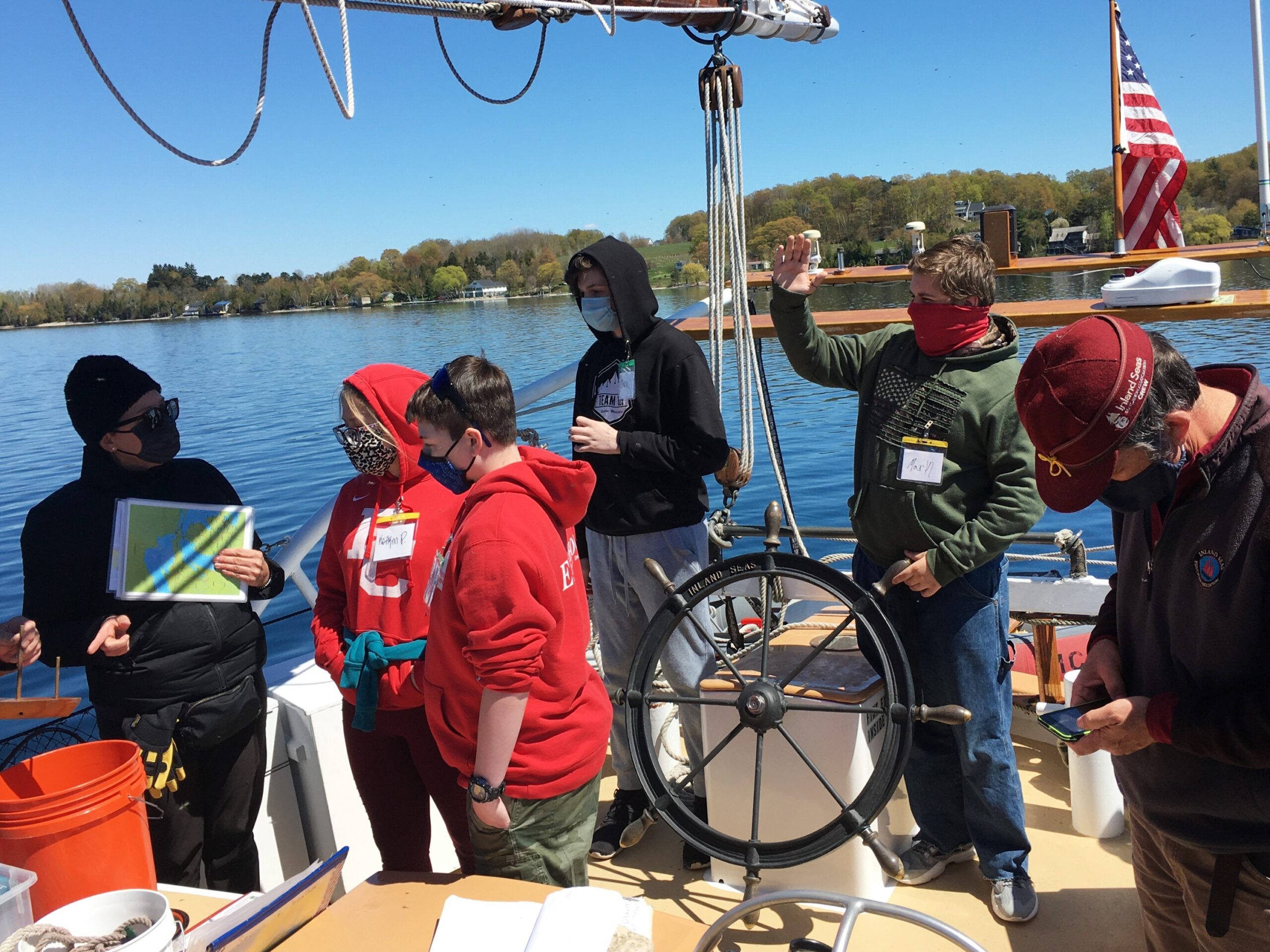 Above: While on their field trip to Lake Michigan, Benzie Central High School students collected and analyzed their own samples, including fish, plankton, benthos, and microplastics to determine the health of the lake.
"I went on a trip to Inland Seas, and it was really fun to learn about wetlands and the lakes. I also went on the boat and learned about plankton, how to steer the boat, how to put a sail up, and how to catch fish. It was really fun!" – Makayla, SEEDS After School Student from Kalkaska
On another field trip, 125 students visited the "makerspace" created at Northwestern Michigan College to explore and experience a wide range of STEM-related activities. They received a tour of the Marine Technology program to expose them to further educational opportunities in water based STEM fields.
ISEA instructors also visited SEEDS after school programs to teach engineering activities. In one activity, students built small solar powered boats to learn STEM skills related to engineering a floating vessel. They then raced the solar boats in a trough of water to test their designs!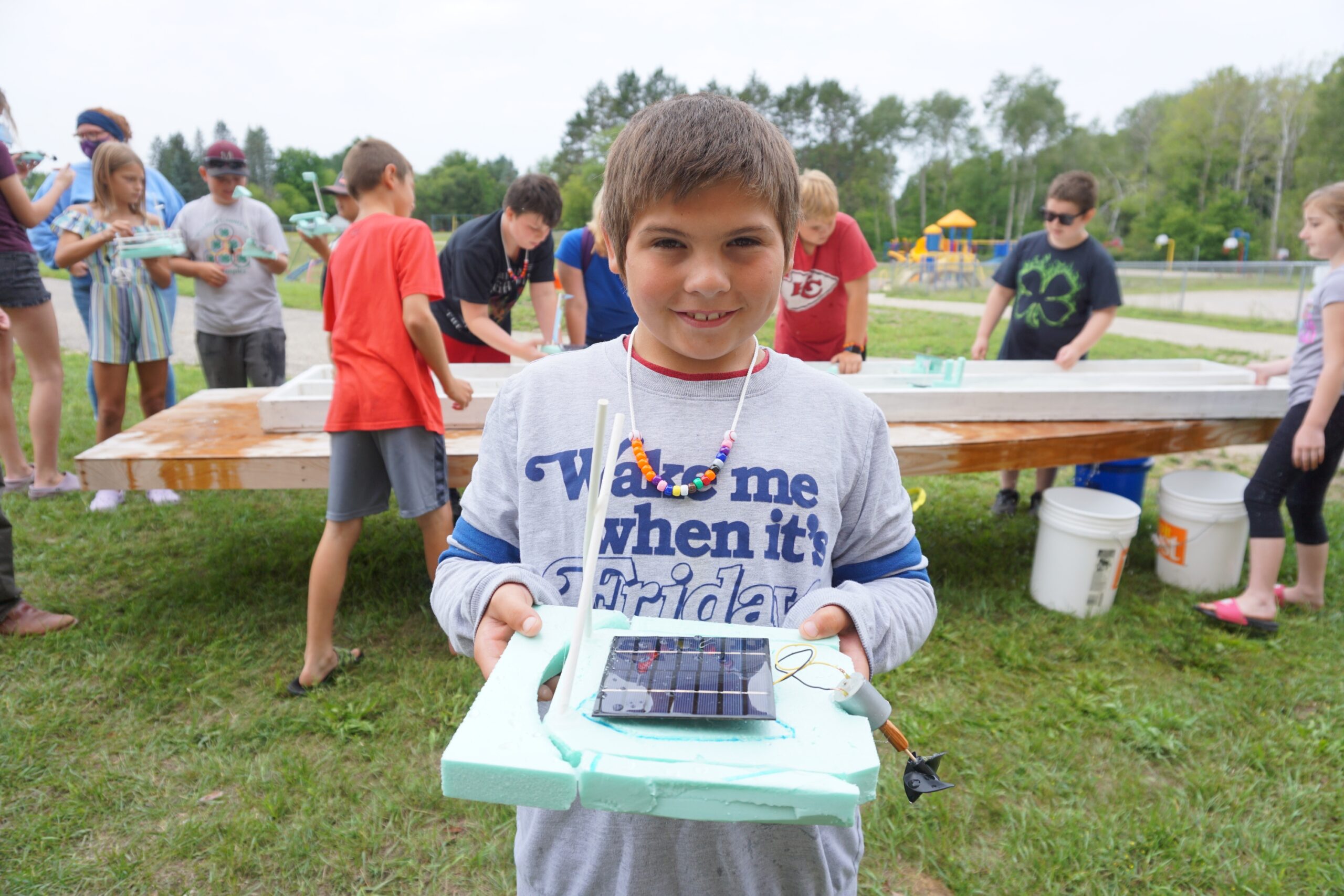 Above: Jeremiah, a student from Marion, holds up his solar-powered boat made at SEEDS Summer Camp. Through the hands-on engineering challenges, students developed an understanding of buoyancy, circuits, and underwater propulsion.
"This is exactly the type of programming and partnership that makes for extraordinarily special experiences for students. We are honored to work with ISEA and help in efforts to extend their reach inland and into near-by rural communities." – Executive Director Sarna Salzman
Above: Forest Area Middle School students show off their Michigan watershed art project.
The North American Association for Environmental Education (NAAEE), in partnership with the National Oceanic and Atmospheric Administration (NOAA) and supported by the U.S. Department of Education, awarded funding to ISEA to provide enriching after school watershed-related STEM projects. Funding for the grant was provided by the U.S. Department of Education and administered by NAAEE. These grants are part of eeBLUE, NAAEE's effort to build collaborative partnerships that support the mutual STEM education goals of NOAA and the U.S. Department of Education.
The grants supported programming for after school programs run by SEEDS, which are funded through a grant by the Michigan Department of Education as part of the Nita M. Lowey 21st Century Community Learning Center program. SEEDS engaged seven of its eleven after school programs with activities and lessons from ISEA, including Benzie Central High School & Academy, Benzie Central Middle School, Betsie Valley Elementary School, Forest Area Middle School, Fife Lake Elementary School, Cherry Street Intermediate School, and Marion Elementary School.