At SEEDS, every day is Earth Day! Our staff and volunteers work year round and continuously build a better tomorrow for our communities through habitat restoration, youth engagement, leadership development, and climate solution implementation.
Last week the Northern Michigan Environmental Action Council (NMEAC) held its 34th annual Environmentalist of the Year Celebration. Between SEEDS Executive Director Sarna Salzman giving the keynote, EcoCorps Crew Leader Jo Jaczkowski being nominated, SEEDS alumni and volunteers being everywhere we looked, and the unmistakable Bioneers-vibes, it really felt like a SEEDS reunion! (Throwback to the memorable 12 years we co-hosted the Great Lakes Bioneers Conference!)
During her keynote, Sarna shared an inspiring message of positivity and hope. She stated that it will take all of us, doing what we can and working together, to overcome the very real challenges facing us.
We are so grateful for the decades of environmental work and advocacy that NMEAC has invested into our region. NMEAC is the region's oldest and best-known grassroots environmental advocacy and stewardship organization. Founded in 1980, NMEAC's mission is a simple one: "Preserving the natural environment through citizen action and education."
ABOVE:

Pictured left to right, Marshall Protetch, Ryan Buck, Andy Berger, Jo Jaczkowski, Jennifer Flynn, John Taylor, Sarna Salzman, Taryn Indish, and Elizabeth Dunham.
It was very fun to run into friends at the NMEAC event. Taryn Indish, a former EcoCorps crew member, leads the NMC Green Team. Now the Chair of NMEAC, Blase Masserant is a former EcoCorps crew leader. Dr. Bob La Porte volunteers with SEEDS and received the EOY award for Agriculture. Juliana Lisuk, also a SEEDS alum, was nominated as well for her work at Inland Seas Education Association.
We are very glad we caught him for a photo, and we would like to give a special shoutout to John Taylor (JT), our recently retired board member who served for almost a decade and as chair twice! Thank you, JT!
Jo Jaczkowski, Environmentalist of the Year Nominee, education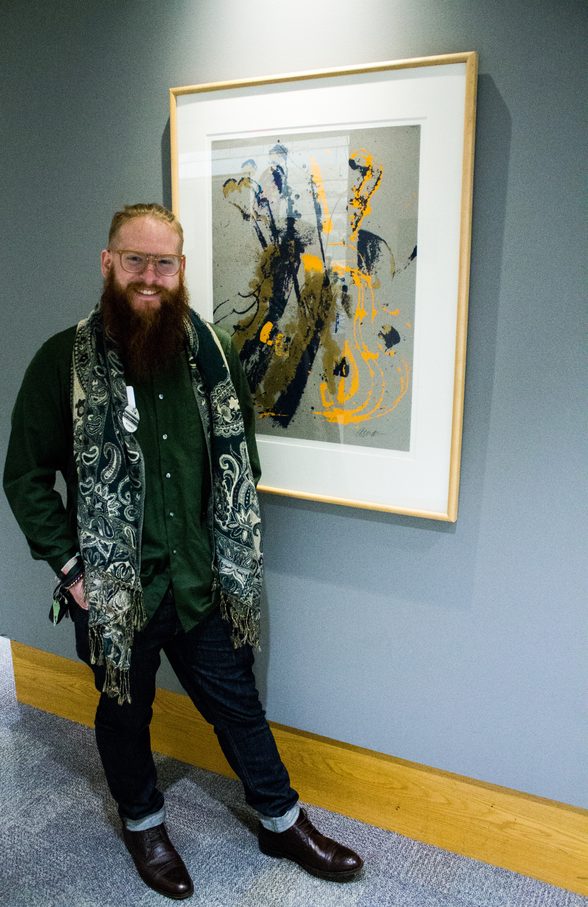 As an EcoCorps Crew Leader at SEEDS, Jo goes above and beyond to spread knowledge about and love for the natural world. Jo simultaneously does the work to restore Michigan's habitat while teaching others the importance of the work they are doing. Jo's passion is contagious to the others on the crew, who are frequently other young people.
Whether it's planting wildflowers for the Karner Blue Butterfly or building a boardwalk on the North Country Trail to prevent erosion, Jo is always ready to make the connection between their project that day and the big-picture impacts. Their wealth of knowledge and context brings value to each project, and to their trivia team each Wednesday!
Jo is a Master Composter and the Compost Manager at SEEDS. They teach others about composting, including through NMC's Extended Education courses. They will facilitate expanded composting education at the SEEDS Farm at Historic Barns Park this year.
"Being nominated as NMEAC Environmentalist of the Year was an outstanding moment in my conservation career. I am extremely proud to have been nominated amongst an outstanding cast of nominees from various walks of life but fighting the same fight. Seeing so many people gathered to celebrate each and every nominee brought great joy to my heart."
— Jo Jaczkowski, EcoCorps Crew Leader & Compost Manager