Click Here for Wood Rescue Items for Sale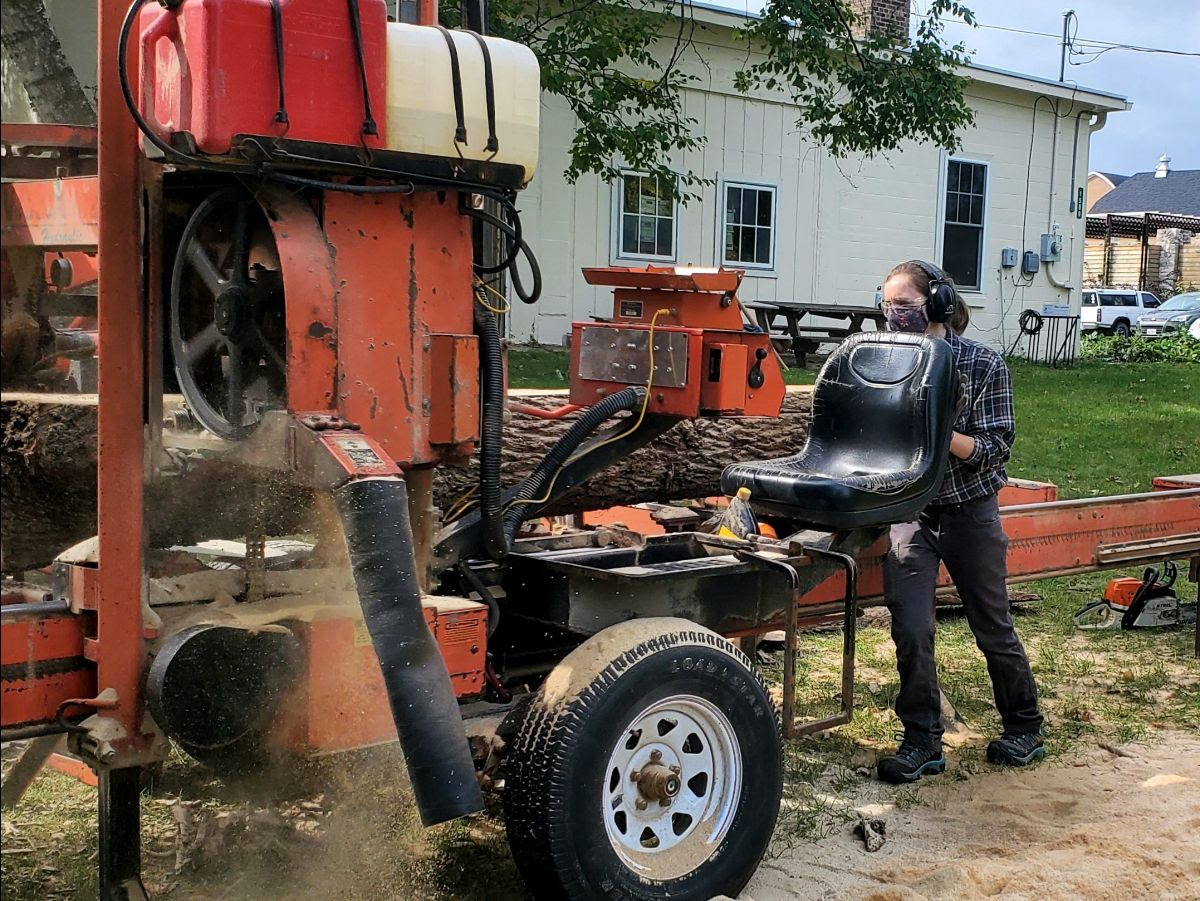 Above: EcoCorps Assistant Crew Leader Caitlin mills a tree trunk next to the SEEDS Workshop at Historic Barns Park in Traverse City.
SEEDS EcoCorps is giving new life to downed trees!
Locally-felled oak, maple, and walnut trees will live on as benches, signage, and other wood projects. EcoCorps partnered with the City of Traverse City to mill oak trees felled for new Safe Routes to School construction, recovered a portion of the maple and walnut trees felled for road construction at Historic Barns Park with the Joint Recreational Authority, and, in partnership with the Village at Grand Traverse Commons, EcoCorps built benches using a maple tree that was planted by Dr. James Decker Munson on the front lawn of the Traverse City State Hospital over 100 years ago that had reached the end of its life.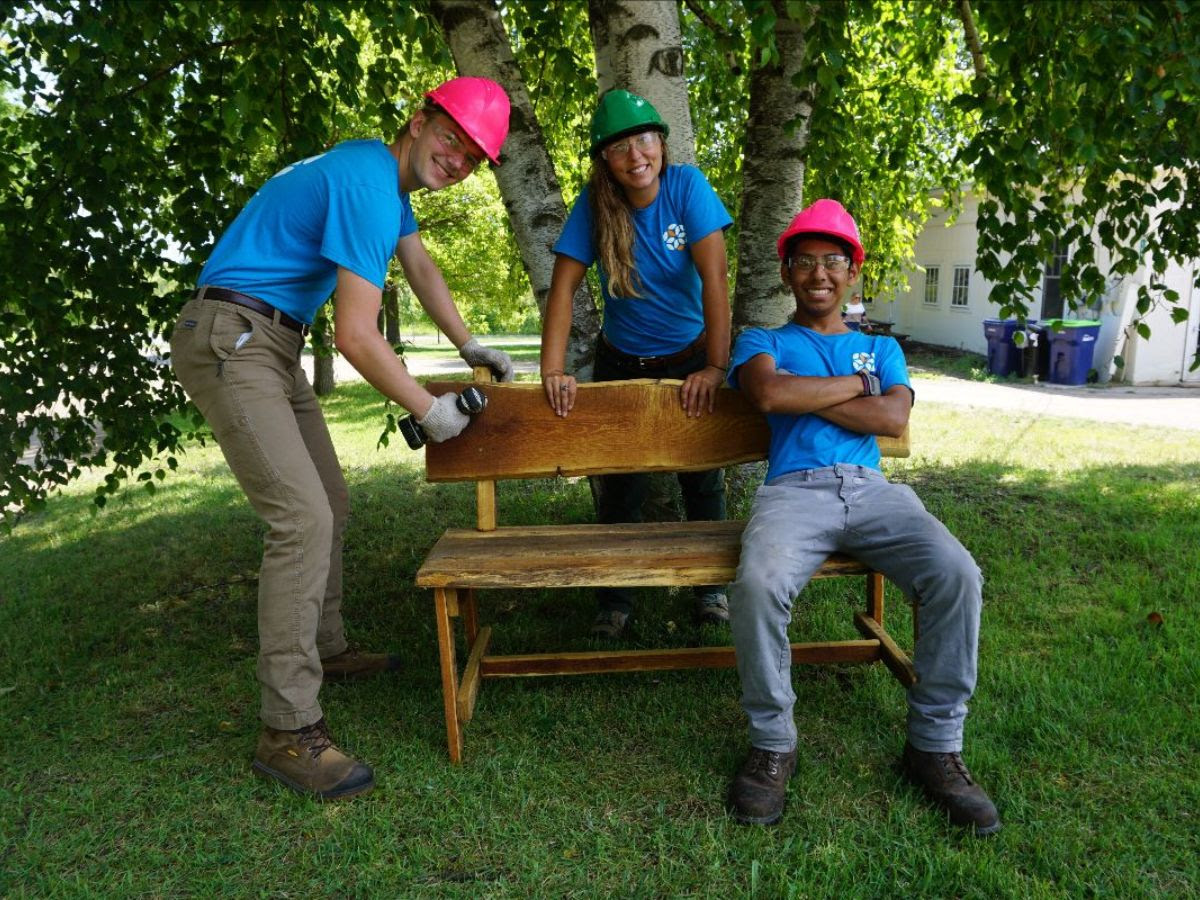 Above: EcoCorps crew members display a bench they constructed using live edge black locust that was felled as part of an invasive species removal initiative. From left to right, Crew Member Elliott, Crew Leader Natalie, and Crew Member Manny.
When felled trees end up as firewood or chips, the carbon stored in the wood is released back into the atmosphere. Wood in landfills generates methane, an extremely potent greenhouse gas.
SEEDS EcoCorps is using wood that otherwise would have been burned, chipped, or landfilled to create value-added products and provide woodworking experience and training to our crews. EcoCorps will use reclaimed material to build benches along the Safe Routes to School pathways and create signage and benches for the National Park Service. Check out this video of EcoCorps at work with the National Park Service already this year!
Stay tuned! Select items will be available for sale to the general public, including live-edge slabs, as well as artisan furniture and other value-added products.
"We want to inspire community members to rethink what happens to each tree felled and promote a circular carbon economy for trees in our community." – SEEDS EcoCorps Program Director, Jennifer Flynn
For years, SEEDS has been actively working with black locust trees and is now expanding efforts to reclaim lumber from trees felled for development. Saving this lumber is not simple as frequently these trees are in tight urban conditions that require extra planning and care in how they are taken down, and then massive trunks need to be moved to an appropriate milling location.
The significant sequestered carbon preserved, layered with the educational and training benefits of the process, and the financial value of the final products add up to a compelling triple-bottom-line program.
Above: In preparation for the lumber to be milled, EcoCorps Senior Crew Leader Andy strips bark off a tree cut down during road construction at Historic Barns Park.
EcoCorps urban wood projects are made possible in part with support from the Brookby Family Foundation, the Shafer-Tuuk Family Foundation, the City of Traverse City, the Begonia Foundation, the Discovery Center, the Urban Wood Network, and a gift in memory of Carl and Pinkie Albright.