Traditional Ecological Knowledge, TEK, is more important than ever and is a deep part of the experiential education approach SEEDS offers. If you missed it, be sure to read our last newsletter about our Traditional Ecological Knowledge projects here!
Students at Floyd M Jewett Elementary in Mesick have been working with TEK partner, Tera John, on several lessons. Recently, the class talked water. The students read a story with Tera about the significance of the Water Walkers — the Anishinaabe grandmothers who walked the circumference of the Great Lakes region chanting the water prayer and who traditionally stressed the importance of carrying a copper pot help sterilize the water — that's more than 10,900 miles! Tera brought an otter skin to discuss animals that live in the water and their relationship the Anishinaabe.
Below, Tera shares why this work is important to her.
Meet Tera John, TEK Educator
How did you first become involved with working
with SEEDS?
"I have known about SEEDS for several years, and when the TEK position opened up, there were several people that put me on to what the requirements were for SEEDS and encouraged me to apply."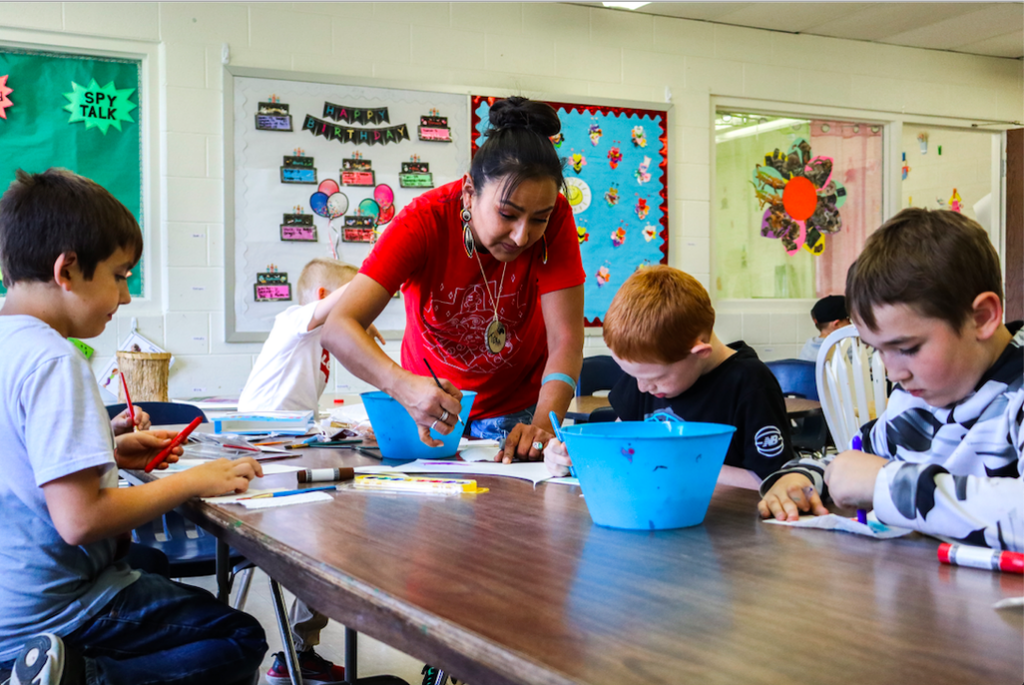 What is your background?
"Previously, I've worked traditionally with land management and food sovereignty. This aspect [of teaching] is kind of new to me in this space, and I really enjoy working with what I call border communities because they provide safe spaces for messages and TEK to take root."
What inspires you?
"Seeing the younger generation picking up knowledge and understanding the relationships we have with each other to better understand the relationships we have with Mother Earth inspires me. We are all part of an ecological system, and that's what I strive to facilitate. I want people to be who they are in the spaces they inhabit."
Why do you do what you do?
"My community carries knowledge about the land that has been ignored for millennia. This information creates a space in these border communities that our children work with and live within, for my artists and my children to share their values."
What stops you from giving up when you are frustrated?
"I remember that I'm not the only one. We teach in ricing [the practice of harvesting and storing wild rice [manoomin] and maple sugaring [the process of tapping maple trees and making syrup & sugar from the sap] that we cannot do things alone. It is an anchor that we cannot do this on our own. When I teach these lessons, I know that these lessons exceed what I know. Culturally, we're taught to think in 7 generations before and 7 generations after. I'm not thinking about my kids — I'm thinking about the kids that come after my kids' kids."

Pictured top right: Tera helping students mix water color paint. Bottom left: Drawings a colleague made to showcase what is in the water.  Bottom right: Three Mesick students painting.
Want to learn more about TEK?