Meet Bubbles, Sturgeon-in-Residence at Rapid City Elementary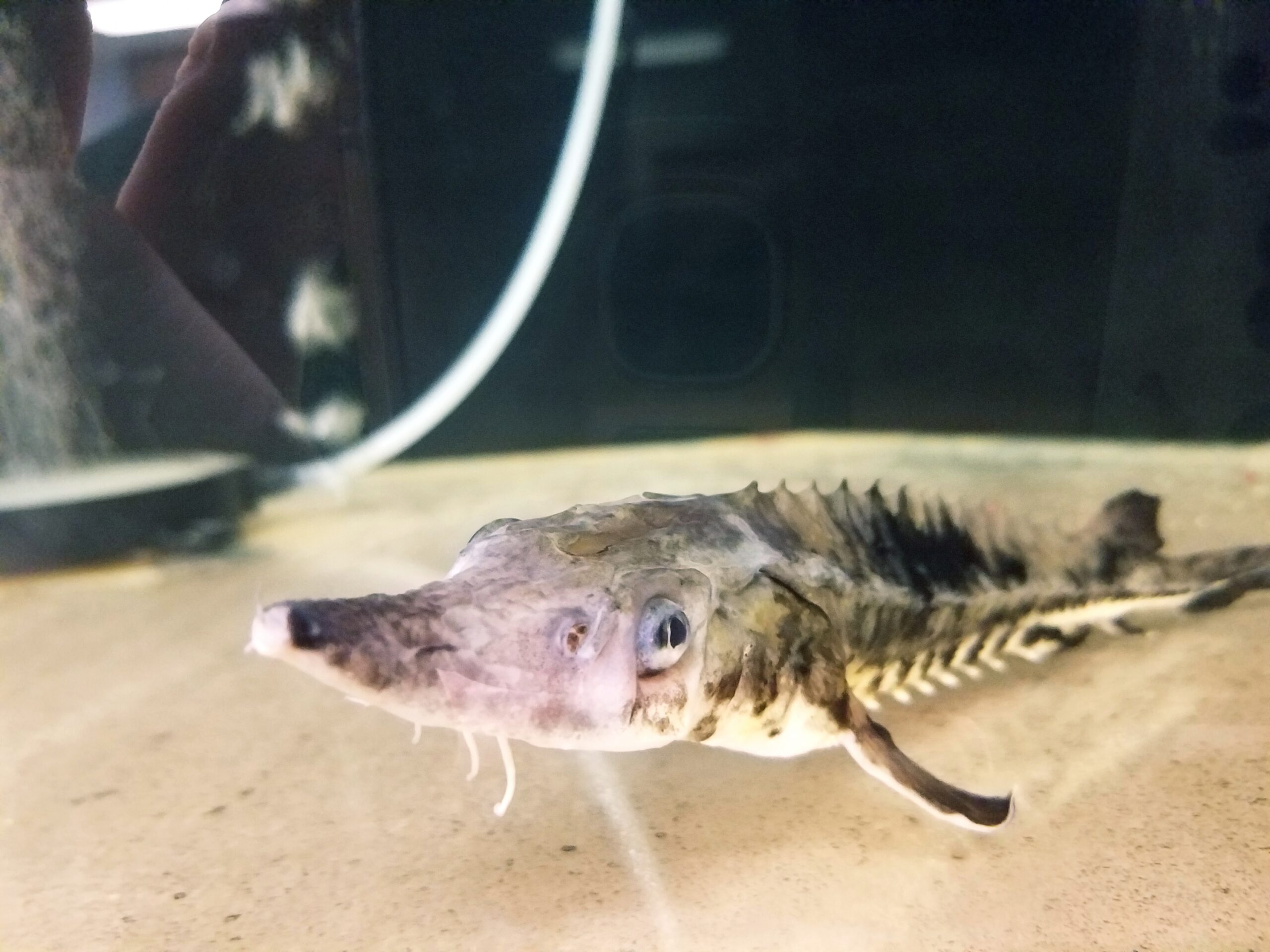 Nme means Lake Sturgeon in Anishinaabemowin. SEEDS is collaborating with the Little Traverse Bay Bands of Odawa Indians (LTBB), the Grand Traverse Stewardship Initiative, and Rapid City Elementary to foster a juvenile Nme until it is ready to be released.
"We want students and educators alike to gain knowledge on the cultural significant of Nme through time," explained Amanda Weinert, the Ishkakimikwe Kinomaagewinan (Mother Earth Teachings) Curriculum Specialist with LTBB.
This project connects Traditional Ecological Knowledge (TEK) with Western STEM/STEAM goals by caring for a Nme, a Lake Sturgeon fingerling. Program participants learn about the history and importance of treaties, and treaty rights of tribal citizens, as well as critical thinking and problem solving skills.
"Anishinaabek and Nme share an intertwined history throughout the waterways and habitats of the Great Lakes region. Community health is connected to the recovery of our ancient relative, Nme. We want all students to understand the importance of Nme rehabilitation and how it is practiced." Amanda Weinert, LTBB Curriculum Specialist
"Our students will be weighing and measuring the sturgeon each week and testing the water quality in the fish tank. We'll incorporate the cultural study of the sturgeon with our Michigan history lessons," said Rapid City Elementary Principal Laura Kwekel.
"The kids love it!" said Brett Bontrager, SEEDS After School Coordinator at Rapid City Elementary. "The students are very excited to meet the sturgeon and help take care of it. They have been preparing for weeks, meeting their benchmarks for tank water quality." Brett said that he is excited to host more fish in the future. "Now that we have everything set up, we'll be doing it again next year. They will have a fish ready for us in the fall," he said.
Named by the students, 'Bubbles' will be released with other juvenile sturgeon this summer into the Black River. The Little Traverse Bay Bands of Odawa Indians has been building the Nme Teachings Unit since 2013. This year, Pellston High School and the Traverse City Children's House are also participating.
"This is exciting, authentic learning! Our students will get to explore real-world issues such as air and water quality, threatened and endangered species, and the importance of stewardship." Laura Kwekel, Rapid City Elementary Principal